Stress Test Rate Falls to 4.79%
Date Posted: August 17, 2020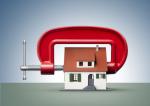 The stress test rate has fallen for the second time in three months following cuts by Canada's Big Six banks to their 5-year fixed posted rates. The Bank of Canada has reduced their benchmark qualifying rate - a.k.a., "stress test rate" from 4.94% to 4.79%.
With many of the Big Banks cutting their posted 5-year rates in recent days the Bank of Canada is following suit by lowering their qualifying rate. Back in May of this year, similar Big Bank rate reductions caused the qualifying rate to fall from its then-current level of 5.04% to just below 5%. This marked the first time since January 2018, when OSFI's stress test was introduced, that the benchmark qualifying rate fell below 5%
The lowering of the qualifying rate will make it a little easier for prospective home buyers as they are able to qualify at a lower rate.
If you have any questions on how the mortgage qualifying rate (stress-test) can impact your ability to purchase a home – talk to a mortgage professional today.
To read the full Canadian Mortgage Trend article; click here:
Contact your Mortgage Broker today for more trusted advice